Start Planning Your Ocean City Beach Wedding in 3 Easy Steps!
 Beach Weddings  Packages for Ocean City MD & Bethany Beach DE
Rox Beach Weddings provides  Fun, Easy & Stress Free Ocean City Beach Wedding Packages.  We service the Maryland Beaches of Ocean City and Assateague Island as well as the Delaware Beaches of Bethany Beach, Dewey Beach, Rehoboth Beach and Fenwick Island.  Our office for all beach wedding and bridal services is located in Ocean City, MD and we live there year round.  Our services for Ocean City weddings include Wedding Officiant, Wedding Minister, and Wedding Pastor services as well as full Ceremony Coordination, Wedding Photography, Wedding Videography, Beach Set Up & DJ Service.  Living at the beach has fostered great relationships with the best local Hotels and Restaurants as well.  Our Ocean City weddings Ceremony and Eloper's Packages are all inclusive and we offer select Reception Services. We serve as an Ocean City Beach Wedding Concierge service for our brides and grooms and can assist with Ocean City Beach Wedding Permits, Marriage Licenses, Venues and Honeymoons.  Give us a call and we'll be Happy to go over ideas with You!
Rox Beach Weddings has been in the Ocean City beach wedding business full-time since 2006.  Owners Sean & Cassandra Rox enjoy meeting couples from all over the world and helping them make their wedding dreams come true! Rox is the only Beach Wedding Service located within the municipality of Ocean City with an actual OC address and local 289 land line.  Sean has been involved in ocean city beach weddings since the late 1990's and has lived in Ocean City since 1994.  Make sure to sign up for our Free Ocean City Beach Wedding Catalog. It only takes about 60 seconds and we'll ship a hardcopy right to your door- your family and fiancé will love it!
Ocean City Maryland 21842 is a wedding friendly beach that does not require a permit and has plenty of hotels, restaurants and activities for the whole family. There is plenty of free parking and major events to see such as the OC Air Show, The Ocean City Bridal Show , Sun Fest, Springfest, St.Patrick's Day Parade, Winterfest of Lights, Bike Week, Cruiser Week and Wine on the Beach.  Assateague Island is home to hundreds of Wild Ponies and consist of a State and Federal side. The parks are technically in Berlin, MD and are a part of Worcester County.
Ask our owner and Wedding Minister Sean Rox or Photo and Video Director Cassandra Rox which of the Ocean City, MD venues would be best for you.    Fenwick island borders Ocean City and is slightly quieter than its neighbor to the south. If you drive north a few miles you'll pass the Fenwick Island State Park before reaching the charming resort of Bethany Beach 19930.  The north beaches of the Delmarva peninsula are Dewey Beach and Rehoboth Beach 19971.  Both are in Sussex County DE.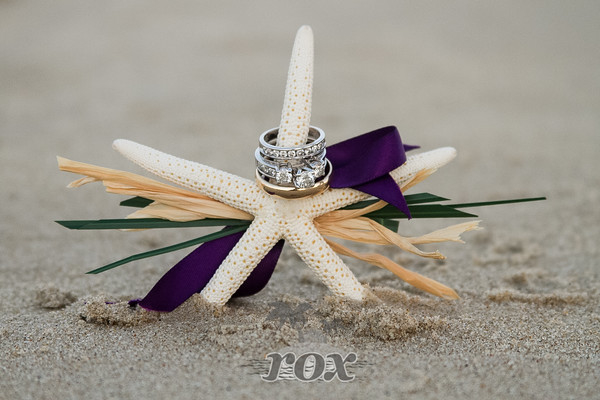 Reserve my Wedding Date in Two Easy Steps!
1

Submit our Booking Form
2

Make a Retainer Payment
All Wedding Officiant & Ceremony Coordination Packages include our Exclusive Ceremony Guide & Planner